What literary critics have to say
about Rosanne Dingli's work
Praise for According to Luke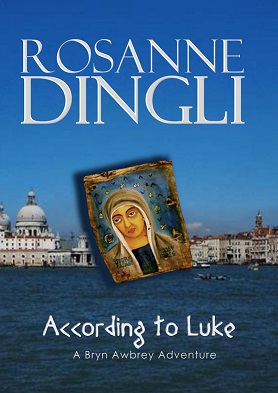 Here is a book packed with the ingredients of an engrossing read. Jana Hayes, an Australian in pursuit of an independent life free from her powerful, business-oriented mother, works as an art restorer in Venice. When she finds she has a rare icon whose significance might upend the Christian world, she is drawn into a net of conflict and danger. It seems that Catholic dignitaries, Muslim extremists, even a former colleague she respected, are all determined to gain possession of the ancient work of art.
There are enough turns and twists of plot to keep the reader avidly turning the pages; but 'According to Luke' is more than a conventional thriller. The story is a fascinating mix of information on art and church history, restoration,symbolism and language. Add to this a difficult romance and travel within Italy, Malta and Syria, vividly described so that the reader feels they too have visited these countries and followed ancient roads to memorable sites of worship. The sense of place conveyed is not the kind of thrown-together mix gleaned from a quick search on the Internet. Undoubtedly Rosanne Dingli has walked these settings and carefully noted what she saw. The book does raise questions regarding the original gospels, and is an unusual and fast-moving story that compels the reader to read on late into the night.
According to Luke by Rosanne Dingli really is a book you should read. As a mystery it is superb, well crafted with innumerable convolutions and complexities in a plot that could change the world.
She proposes a theory which could rock the Catholic Church to its foundations far more than Dan Brown's Da Vinci Code and could inspire change undreamed of for two thousand years because its fundamental hypothesis is so plausible. For anyone approaching Christianity and the Catholic Church for the first time it provides solid evidence that is denied by established doctrine and yet makes complete sense. The evidence offered and the masterly way in which it is revealed and presented makes Dingli's theory all the more possible in a way that is reinforced by the devious machinations of those who would conceal and refute its essence.
Starting in a laboratory where an old religious icon is undergoing restoration, the tension mounts swiftly. There is enough technical detail to let the reader know that she really does know what she is talking about, whilst not enough to detract from the important message of the story. The story swiftly moves on to other locations, building the tension as it goes and adding layers of complexity to the mystery which gets deeper as it unfolds.
Her portrayal of the various characters and illustrations of the political manoeuvring that goes on in the Catholic hierarchy are beautifully illustrated and the whole lot is set in a mobile but very well researched series of locations. At the same time her characters are very real as individual people, with emotions and attitudes we can all identify and share.
Her research has been impeccable and detailed, enabling Dingli to use her considerable descriptive powers to bring locations to life. These include the sounds and smells of Venetian canals and plazas with the angelus playing Ave Maria, the incense laden atmosphere of beautifully described churches in Italy and Malta, narrow lanes the an isolated dead end of a Maltese jetty, together with the windswept starkness of an ancient monastery on the Syrian plateau.
Through these places she moves like chess pieces a collection of characters, each with their own talents and dilemmas, who mesh together in a well crafted way that enables the reader to share their joys and agonies, fears, and successes from an intimate perspective.
According to Luke is compelling reading from the very beginning to the last page and well worth reading more than once. This is suspense writing at its best, worthy of great acclaim.
Ian Mathie -
author of the African Memoir series, on Amazon.co.uk
~~



This was a really fantastic read! Dingli is a superb writer, encompassing it all within her novel: suspense, mystery, romance, murder, betrayal, and even terrorism. I was intrigued as I read, spurred on by the mystery that surrounded the novel as Jana and her friends uncover a conspiracy and figure out the truth. I was reminded of The Da Vinci Code as I read (the movie, I've not yet read the book), yet only in terms of mystery and secrets within the Catholic church. Dingli makes this story her own, and all other similarities with other novels and movies end there. I would, therefore, love to see this novel hit the big screen as its sheer amount of intrigue, suspense, and mystery will captivate any audience.

I highly enjoyed the characters as they were well rounded and sincere, adding to the narrative of the story. I was able to identify with the characters on many levels, solidifying my fondness for the novel. Dingli does a superb job shrouding her book in mystery, and kept me guessing as new information came to light. I found myself drawn in to the novel, right alongside the characters, while coming up with my own theories. Yet, I was just as shocked as the characters were when the truth was finally revealed; it takes a very skilled writer to keep such a vast secret from revealing itself before the exact time, and Dingli does an outstanding job.

I am also impressed with the amount of time Dingli spent researching her book. While admittedly a fictional novel, all the locations, paintings (save the separated icon Jana works closely with) and sculptures, illnesses, transportation routes, and documents presented in the text are authentic. This aspect makes the novel that much more intriguing as one can actually visit and research these relics for further study. It is plain to see that Dingli put a lot of time and love into creating her novel, and I highly recommend reading it! Four stars!
A Book Vacation - bookvacations.wordpress.com
See also:
Orangedale, July 27, 2011 issue. According to Luke, reviewed by Dale Harcombe
The problem sometimes with stories that have fast paced action is it can often be at the expense of character. That is not the case with According to Luke. The characters are well drawn and fully developed. Jana is meticulous in her research and patience in authenticating historical artifacts. She also encounters a fellow Australian sent along to oversee the handling and authentication of this artifact. More >>

The Big Thrill, May 2011 issue. According to Luke, reviewed by Don Helin
In her latest novel, According to Luke, Rosanne Dingli unleashes a romantic story of secrecy, symbols, faith and forbidden love. It takes the reader on a quest for an ancient truth so powerful it disturbs the Catholic Church: a truth so explosive it attacks violent separatists and demands a ransom of millions. Readers will follow a chase that charges from Venice to Malta, and then to Ravenna; a chase that escalates to disaster in Damascus, until a solution in found in the Victorian countryside of Australia.
more »
BC Books, May 2011 issue. According to Luke, reviewed by Maggie Ball
There seems to be something of a trend for books set in Rome with a plot that involves the questioning of accepted biblical interpretations (call it the "Bible Conspiracy Theory" plot). The comparisons with Dan Brown are natural, and the reason for choosing this area to write about is obvious: it's exciting, controversial in its heresy, and rich with drama and complication. Since my own knowledge of both The Bible and The Da Vinci Code are generally less extensive than most people's, I came to According to Luke with no preconceptions. More >>


Praise for Death in Malta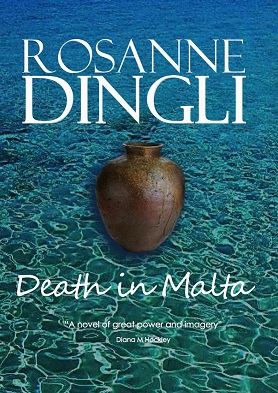 It is hard to pigeonhole local author Rosanne Dingli's first novel. The title promises a Mediterranean murder mystery. But this leisurely literary work has little in common with the standard genre crime thrillers...
Persistent readers are rewarded by a couple of climactic sequences, as the reopening of the sealed jars prompts another unexplained death...
The novel gathers a decent head of steam during the final stages and expectations are overturned by a couple of clever twists. Its denouement has the psychological weight of a powerful short story, as we learn about Censinu's demise.
Stephen Bell
The West Australian
Rosanne Dingli shows herself to be a master of characterization and vivid description.The book becomes an intricate and intriguing plait of two stories.

Dr Bob Rich
Bobbing Around

author of Sleeper, Awake and The Travels of First Horse


...........................................................................................................................................
Praise for The Bookbinder's Brother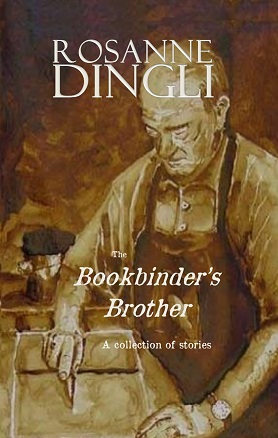 Rosanne Dingli's impressive stories bristle with drama, reflect quietly on memories, contemplate the power of nostalgia and open personal relationships into large themes. They cover a wide range of settings, countries, periods of time and characters, but are always written with clarity and a marvellous sensory awareness. Plain titles belie the intricacy of these carefully crafted tales, as they explore the relationship between past and present selves, and belonging - to a person, a job, a landscape, a set of values. Dingli's understated manner embeds ideas in sharp representations of experience, and her intelligence shows everywhere.
Prof Dennis Haskell
Chair of English, University of Western Australia
Editor of Westerly
............................................................................................................................................
Praise for All the Wrong Places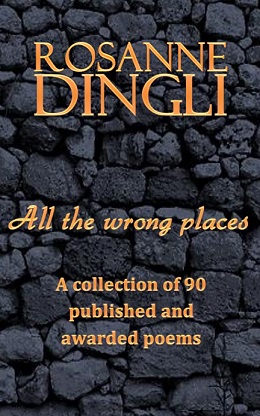 Rosanne Dingli is very Australian, but doesn't make much of a do about it. "All The Wrong Places" could be seen as a travel book, if you wanted to: poems from all those maps. But obviously there are deep meanings behind "wrong places" and she turns them out quietly, without fanfare. You can read the poems in this collection--all lightly wearing the provenance of publication in Oz journals, some modestly pinned with awards from prestigious contests--as superficially as you like: word pictures of gardens and foreign cities.
Or you can dip beneath the surface as you like: there are things moving there, like koi in a pond.
When she leans on significance, she does it stolidly:
Obey the turning sign, the drop
Of the last crystal. The
Inverted globe will
Receive an identical fine escape
Of a captured phenomenon -
An hour held to show an hour gone.
Rosanne is known and appreciated down on the counter-clockwise continent. This edition brings her to the rest of us.
Author of Sweet Spot, Imaginary Lines and Mexican Slang
.................................................................................